There is hardly any other application in water hydraulics in which water is exposed to such high mechanical loads as in waterjet cutting. At pressures above 4000 bar and high speed and flowrates, defects in water quality are directly noticeable by reducing the service life of critical parts. Damaged seals and nozzles, damaged valves and cylinders, deposits on control valves and even bursting pipes. It is therefore particularly important in waterjet cutting to meet the requirements for cutting water quality that is as neutral and low in salt as possible.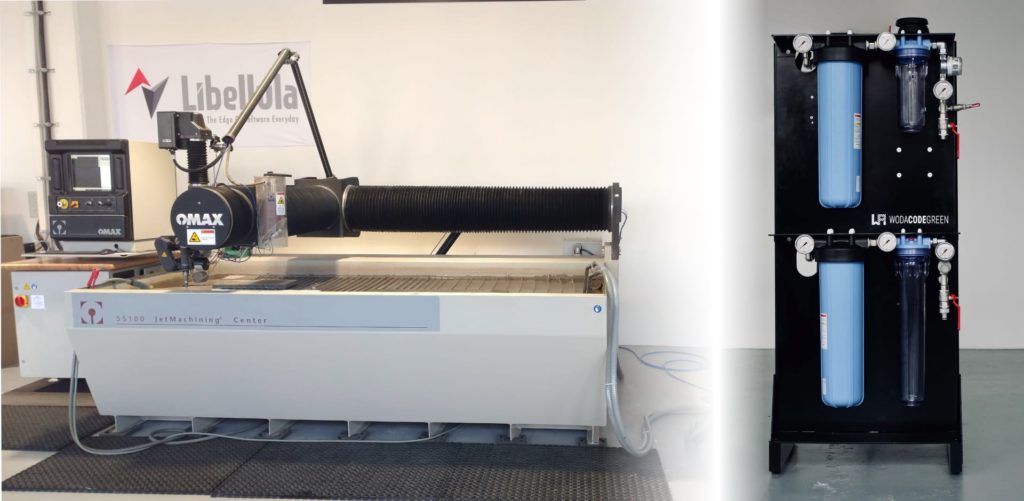 Optimized water quality leads to cost savings through reduced component wear and less downtime as a direct result.
Comparison of operating costs
At 8-hour shift and 5-day week for a cutting machine with a water consumption of Q = 5 l/min the overall water use equals to 600m³ per year.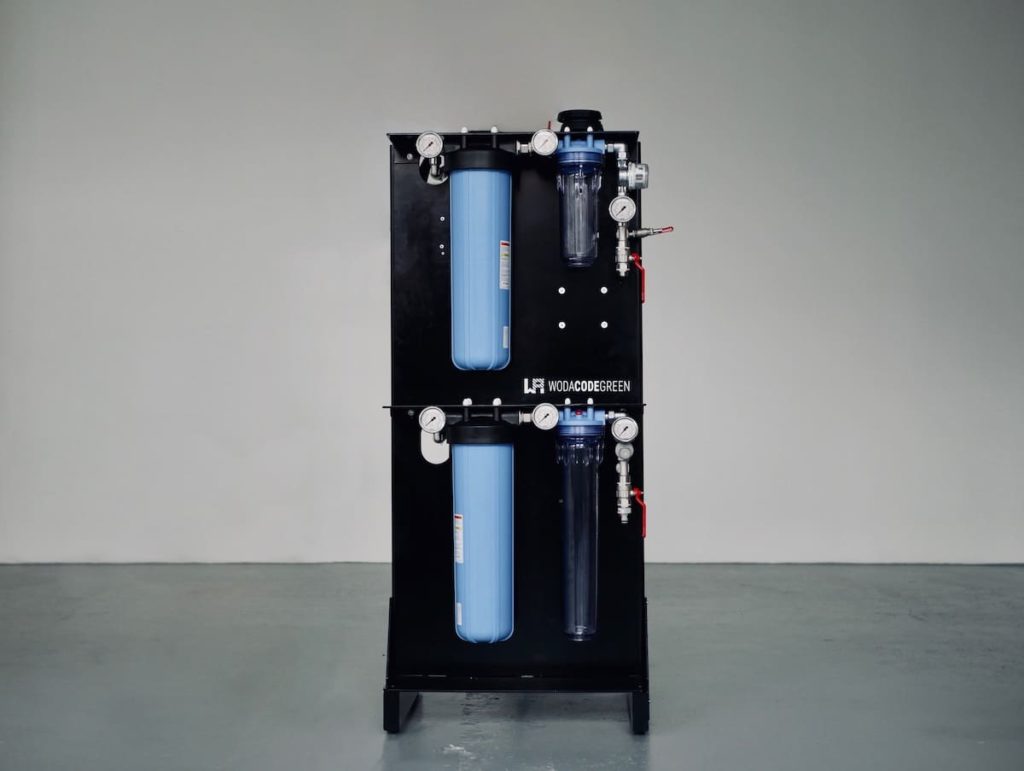 Consumption cost:
per year: 2.055 €
per month: 164,5 €
Consumption cost:
per year: 6.915 €
per month: 553,20 €
WodeCodeGreen produces crystal clear, softened water for your machines – without emitting expensive and harmful chemicals.
This system works efficiently and virtually trouble-free thanks to the absence of sensitive electronic components. The system is easy to use with its cartridge system and can be quickly set up for operation with plug-and-play installation.
WodeCodeGreen filters
all solids up to 1µm
all corrosion products
all heavy metals
Total, carbonate and sulphate hardness
organic compounds (phenols, pesticides, solvents, thinners, oils and alcohols)
silicon dioxide
Chlorine, free carbonic acid and oxygen
all microorganisms including bacteria, algae and fungi
Operating limits
pH < 8,5
Conductivity: 200 – 1200 µS/cm
TDS (total dissolved solids): 140 – 840 ppm
Copper: < 2 mg/l
Dimensions
60cm x 66cm x 165cm (depth x width x height)
Technical specifications
Max. water inlet pressure: 10 bar
Pressure reducer setting: max. 5.5 bar
Water inlet temperature: 10 to 35°C
Maximum flow rate Qmax: 16 litres/min
Conductance at water inlet: 200 – 1200 µS/cm
TDS in inlet water: 140 to 840 ppm
Filtration: activated carbon filter 10µm (inlet), police filter 1µm (outlet)
Recommended filter change rhythm (activated carbon filter): heavily polluted and/or pressure loss Δp >0.4 bar
Recommended change rhythm (oxi- and granulate fine filter): at least after 3 months or 200m³ water flow rate
Dimensions approx. WxDxH in cm: 66x 60x 165
Inlet/outlet connections: 3/4″ thread or hose nipple
Weight: 185kg

Water treatment with WodaCodeGreen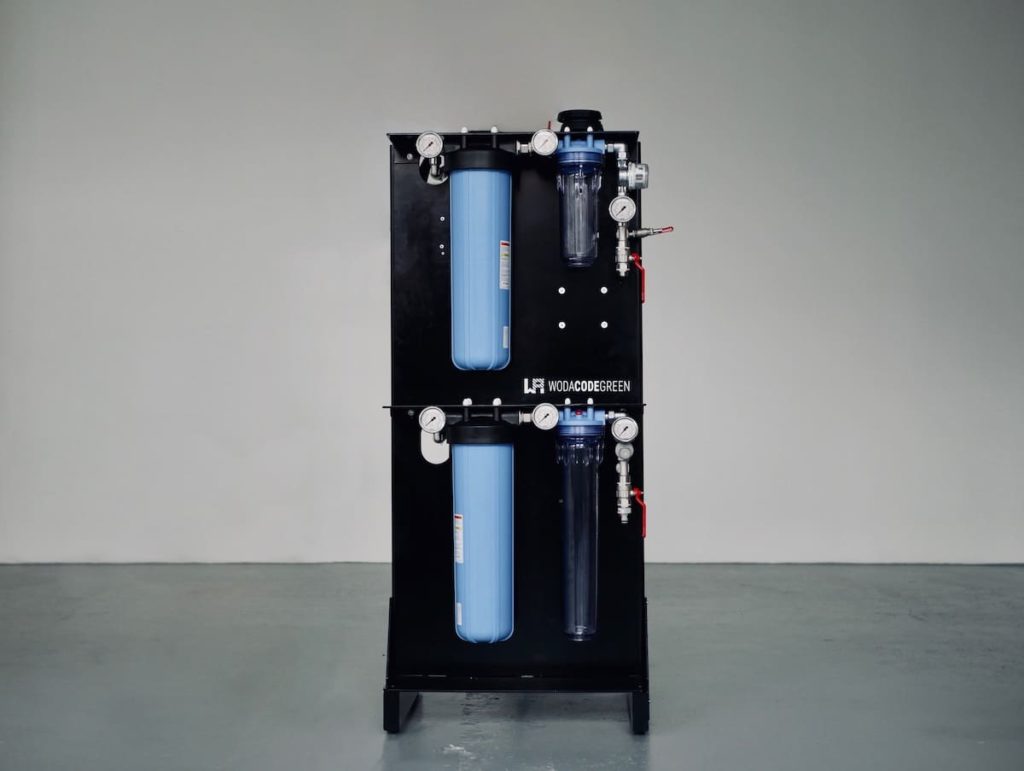 Our WodaCode filter system protects the sensitive high-pressure system of waterjet cutting systems from contamination and thus reduce wear and maintenance costs.
Cost savings: Maintenance intervals of the high-pressure pump are extended by 50 – 500%.
Operational safety: Water-related malfunctions or damage to the high-pressure pump are considerably reduced.
Fast amortization with moderate consumption costs for replacement filters and dosing additives.
Low service costs: trouble-free and low-maintenance technical and electronic design
Filtration & Oxidation
In contrast with traditional filter methods which only filter particles up to 1μm WodaCode also removes chlorine frome the cutting water. Chlorine is commonly used to sanitize and desinfect pipelines but destroys seals. WodaCode also removes dissolved iron and other metals, trace elements including corrosion products which typically would lead to failing valves and seals.
Softening & Degassing
The catalytic granulate forces the carbon dioxide dissolved in the water to outgas, whereby the hardness remains firmly bound in calcite clusters. This procedure has two advantages: It reduces the carbon dioxide content, which would damage the high-pressure systems through cavitation, and it binds calcium carbonate, which would otherwise lead to calcium deposits on cylinders and valves.
WodaCodeGreen
Complete package for the production of ideal cutting water
Filtration of solids >1μm
Filtration of chlorine, metals and gases
highest efficiency without the use of harmful chemicals
low-maintenance and trouble-free operation
easy to handle cartridge system
easy self-assembly -'Plug-and-Play' installation
reduces total, carbonate and sulphate hardness
Decalcification
removes silicon dioxide
Treatment of silicate crystals
Do you have any questions?
Do not hesitate to contact us directly. Our team will support you.
…or simply visit us.