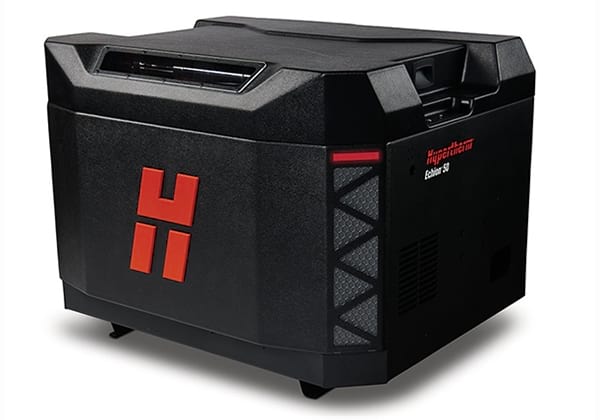 We are pleased to announce the launch of the new Echion™ waterjet pump line.
Available in three power levels, Echion™ 15, 30, and 50 waterjet pumps deliver consistent cut quality at optimum cutting speeds and a design that simplifies service so maintenance is faster, easier, and less expensive. At the same time, Echion pumps include features like fully integrated cooling for a smaller footprint that enables easy integration into small spaces.
Echion is the successor of the HyPrecision series.
At the heart of the Echion pump lies a completely redesigned intensifier containing our next evolution of Advanced Intensifier Technology™ (AIT). Leveraging many of the key attributes of AIT used in the HyPrecision Predictive pump line, the Echion intensifier allows users to reduce maintenance time and provides increased reliability.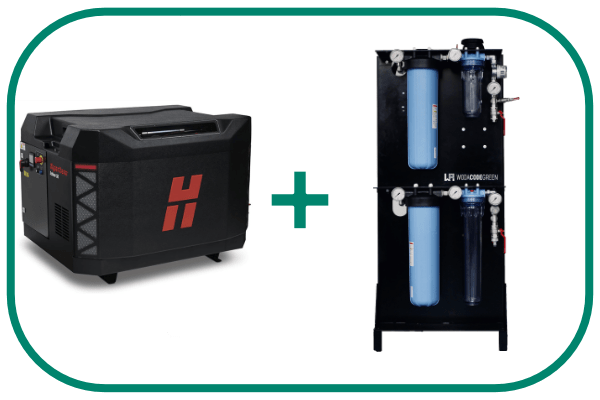 Buy Echion now and receive our WodaCodeGreen water treatment system for free*.
WodaCodeGreen produces crystal clear, softend water for your machines thereby prolonging their service life.
*for a limited time only, while stocks last.
WodaCodeGreen facts and technical data
WodeCodeGreen produces crystal clear, softened water for your machines – without emitting expensive and harmful chemicals.
This system works efficiently and virtually trouble-free thanks to the absence of sensitive electronic components. The system is easy to use with its cartridge system and can be quickly set up for operation with plug-and-play installation.
WodeCodeGreen filters
all solids up to 1µm
all corrosion products
all heavy metals
Total, carbonate and sulphate hardness
organic compounds (phenols, pesticides, solvents, thinners, oils and alcohols)
silicon dioxide
Chlorine, free carbonic acid and oxygen
all microorganisms including bacteria, algae and fungi
Operating limits
pH < 8,5
Conductivity: 200 – 1200 µS/cm
TDS (total dissolved solids): 140 – 840 ppm
Copper: < 2 mg/l
Dimensions
60cm x 66cm x 165cm (depth x width x height)
Technical specifications
Max. water inlet pressure: 10 bar
Pressure reducer setting: max. 5.5 bar
Water inlet temperature: 10 to 35°C
Maximum flow rate Qmax: 16 litres/min
Conductance at water inlet: 200 – 1200 µS/cm
TDS in inlet water: 140 to 840 ppm
Filtration: activated carbon filter 10µm (inlet), police filter 1µm (outlet)
Recommended filter change rhythm (activated carbon filter): heavily polluted and/or pressure loss Δp >0.4 bar
Recommended change rhythm (oxi- and granulate fine filter): at least after 3 months or 200m³ water flow rate
Dimensions approx. WxDxH in cm: 66x 60x 165
Inlet/outlet connections: 3/4″ thread or hose nipple
Weight: 185kg
Do you have any questions?
Do not hesitate to contact us directly. Our team will support you.
…or simply visit us.
---